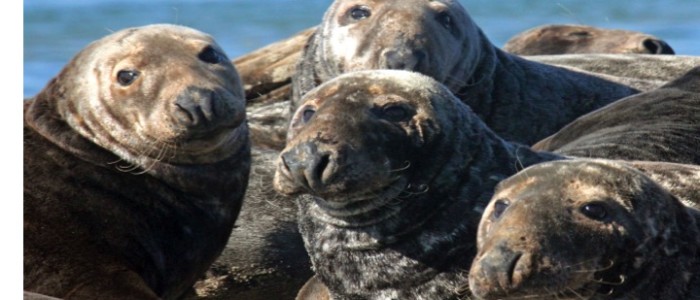 Great white sharks have been making waves recently in local media as their numbers increase in the waters around Cape Cod. Teacher, naturalist, author and photographer Peter Trull will reveal the intriguing relationships between this charismatic apex predator, its major local food source – gray seals, and humans. Trull's striking photographs along with evocative historic ones illustrate a complex story of ecological ties and human responsibility. Join Goldenrod Foundation on Ustream to view Fins, Flippers and Fish: The Delicate Balance Between Cape Cod's Great White Sharks, Seals and Fishermen.
This slideshow requires JavaScript.
Caution: the live presentation will include graphic images of shark and coywolf depredation of seals as well as entanglement in fishing gear and may not be appropriate for all viewers.
The presentation will be streamed from the studios of Plymouth Area Community Television. It is the third in our 2015 speaker series: Making Waves in Coastal Conservation. While you watch, join the chat on Twitter by following GoldenrodFn and using the hashtag #makingwaves.
To sign up to watch online, click here. To see the broadcast start time (7:00 p.m. EST) in your time zone, click here.
To request an invitation to attend the live performance, email: dss@goldenrod.org.
Thanks also to our generous supporters, without whom this series would not be possible. To donate to Goldenrod Foundation to support our educational programs including the Making Waves series, the Beach Ambassadors volunteer program, Summer in Winter and more, click on the button below.