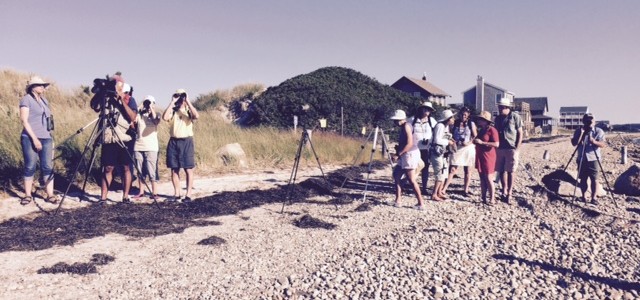 On World Shorebirds Day –  September 6 – hundreds of ardent birders across the globe identified and counted their local shorebirds. In Plymouth, Massachusetts, Soheil Zendeh and Dorie Stolley led a trip for Goldenrod Foundation on Long Beach with 13 participants including Lisa Schibley of the Western Hemisphere Shorebird Reserve Network (WHSRN). (Photo above by Susan Callanan)
It was a day to celebrate the diversity and beauty of these biannual visitors to our shores and to communicate the importance of monitoring numbers of shorebirds in order to conserve them. Soheil described the inestimable value of the 4,000 hectares of mud and sand flats in the surrounding bays to hungry birds trying to feed and put on fat to fuel them in the next stages of their migrations. He also stressed how critical it is to limit disturbance to the birds while they are feeding and resting. The Town of Plymouth does this by keeping up symbolic fencing from the nesting season to provide "safe zones" for the birds and by banning dogs from half of the beach.
Trip highlights included two juvenile Red Knots, a Whimbrel and Black-bellied Plovers in various states of feathered deshabille.
The full trip list is below.
Plymouth Beach, Plymouth, Massachusetts, US
Sep 6, 2015 3:20 PM – 5:20 PM
Protocol: Traveling
0.5 mile(s)
Comments:     High tide approximately 5:30
17 species (+1 other taxa)
Double-crested Cormorant  20
Northern Harrier  1
Black-bellied Plover  77
Semipalmated Plover  90
Willet  8     (Standing on the beach and flying about with Black-bellied Plovers)
Whimbrel  1
Red Knot  2
Sanderling  2
Semipalmated Sandpiper  90
Laughing Gull  250
Herring Gull  30
Great Black-backed Gull  15
Common Tern  3
Forster's Tern  5
Sterna sp.  20
Mourning Dove  1
European Starling  2
House Finch  4
View this checklist online by clicking here.
To learn more about the shorebirds that rely on Plymouth's flats to fuel up on their ways to and from their breeding ground in the Arctic, view this video featuring commentary and stunning photos by Ian Davies of Cornell Lab of Ornithology's eBird Program.