Today's guest blogger is the Litter Lady of Plymouth, Massachusetts, Nancy Carroll. Her story will inspire you to walk the talk, too, and join a team on Hometown Cleanup Day, May 3, to pick up trash from Plymouth's natural areas and neighborhoods. To sign up for Goldenrod Foundation's Long Beach Trash Team, email dss@goldenrod.org.
He had only seen me this way once. And just for a few minutes. Yet, that brief encounter at his tender age had a profound effect on him.
My grandson, barely three years old at the time, was visiting from Maine. Just after supper on that Tuesday evening, I flounced through the kitchen in my Litter Lady outfit. I was on my way to a selectmen's meeting to rally the troops for Hometown Cleanup Day. His little face changed when he saw me like that, equal parts delight and confusion registering there. The outfit, made of recycled prom dresses, flamingo fabric, plastic bags, caution tape, and other goodies, takes most people by surprise.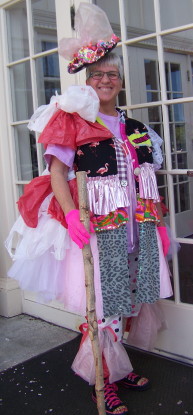 "NeeNee," (my special grandma name), "NeeNee, whatchoo dooin'?" I could tell he wasn't one hundred percent sure it was still really me. "Where you goin' NeeNee?
" I explained just a little bit about litter – the trash on the sidewalk and in the park and on the beach – as I raced out the door.
Ever since that night, EVERY SINGLE time he and I go for a walk together, or go to a playground, or play at a beach, he points out EVERY SINGLE piece of litter he sees. "NeeNee, you're the Litter Lady right?" "Yes, yes I am," I say. "And you hate litter, right NeeNee?" "Well, yes,." And, since I don't like to think that I'm teaching him to HATE anything, I say that I "really, really don't like litter."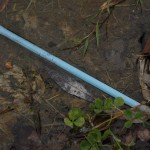 Maybe because he is small and much closer to the ground, and the litter, than I am, he sees every straw, candy wrapper, gum paper, and cigarette butt that is there. He points to each bit of litter. "You're the Litter Lady, right NeeNee," he says. Every time.
The thing is, once you've seen the Litter Lady, you don't forget her. Even if she's not your NeeNee.
Please join the Litter Lady and walk the talk on May 3 (rain date: May 4) for Hometown Cleanup Day. Contact Patrick Farah, Town of Plymouth, to get purple trash bags.  Tell him where you and your group will clean and arrange for DPW pick up of filled purple bags. Patrick's contact info.: pfarah@townhall.plymouth.ma.us, 508-747-1620, ext. 204. Or, join an established group. To find one, click here, or sign up for Goldenrod Foundation's Long Beach Trash Team by emailing: dss@goldenrod.org.