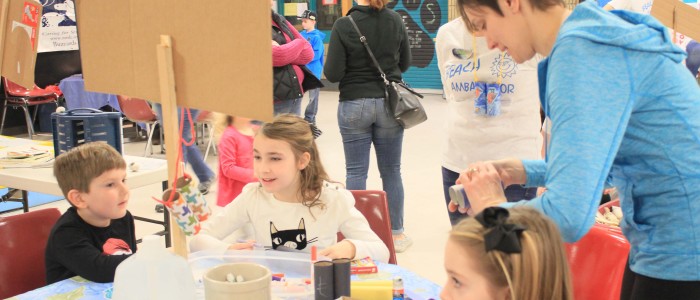 What is the best thing about winter break? Some kids might say, no school!, but dozens willingly flocked back to school for nature discovery and learning during Goldenrod Foundation's Summer in Winter festival at Plymouth South High School where we bring our summer fun indoors in February.
The Beach Ambassadors, Goldenrod's volunteers, showed up in full force to run the activities. Kids hunted for shells in the sand, decorated binoculars and watched nesting osprey, picked invertebrates out of seaweed, petted sea turtles and became whales…with a little help from their imaginations!
Our sand table, or Beach-in-a-Box, attracted a lot of attention. A little digging rewarded searchers with shells of all sorts – clams, scallops, mussels, snails, and crabs – all from Plymouth's beaches. A shell i.d. guide, created by artist Joanne Roach-Evans, allowed the curious to find out exactly what type of mussel (ribbed or blue), clam (surf or quahog), or snail (moon or periwinkle) they had unearthed.
Kids played games, as well, such as Beach Bingo and Wrack Attack, a game of speed and dexterity that teaches about the importance of seaweed that has washed ashore and the creatures that live in it  to hungry shorebirds, as well as the effects of disturbance on their ability to finish their migrations.
Everyone loves a story and kids gathered 'round to hear tales about the ocean, beach and marsh. We even had a surprise visit from Warden Nathan who mesmerized children and adults alike with his tales of wildlife encounters and advice on how to be a good steward of nature.
The Beach Ambassadors were joined by Whale and Dolphin Conservation and National Marine Life Center who brought activities for kids to learn about Massachusetts marine mammals and sea turtles. The only thing missing at Summer in Winter was live animals…oh, and sand! Join us during the real summer at Nelson Park in Plymouth to watch and learn about nesting osprey, hermit crabs, gulls and more; to find shells at the beach; and play outdoor games. We will be there every Friday from 10 am to 1 pm, and other days as scheduled. Check out our calendar of activities to find out when.
Photos by Meghan Copson.