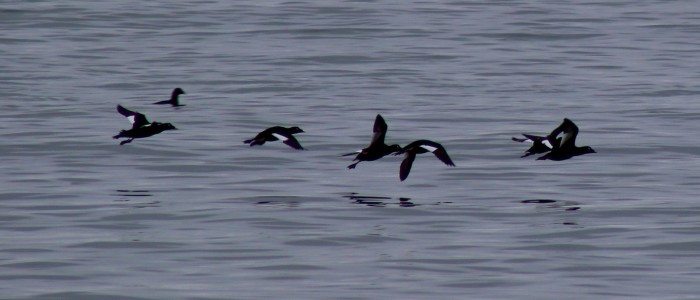 What a day for birding on Long Beach! The temperature was close to 60 degrees and the sky overcast, providing excellent viewing conditions. We could clearly see the markings on these White-winged Scoters and other birds. (Photo above by Debbie Plume.)
Our leader, Soheil Zendeh, pointed out colorful sea ducks, stately Great Blue Herons, a soaring Northern Harrier, delicate Bonaparte's Gulls, scurrying shorebirds and more (full list below). A juvenile Northern Gannet entertained us by plunge-diving and a Razorbill offered identification challenges to beginning birders. Hundreds of Dunlin fed energetically at the water's edge.
Goldenrod's next birding trip is on New Year's Day. Read details and sign up by clicking here. I hope you can join us!
Full bird list for 12/14/15
Brant
American Black Duck
Common Eider
Surf Scoter
White-winged Scoter
Long-tailed Duck
Bufflehead
Red-breasted Merganser
Red-throated Loon
Common Loon
Horned Grebe
Northern Gannet (juvenile)
Great Blue Heron
Northern Harrier
Sanderling
Dunlin
Razorbill
Bonaparte's Gull
Herring Gull
Great Black-backed Gull