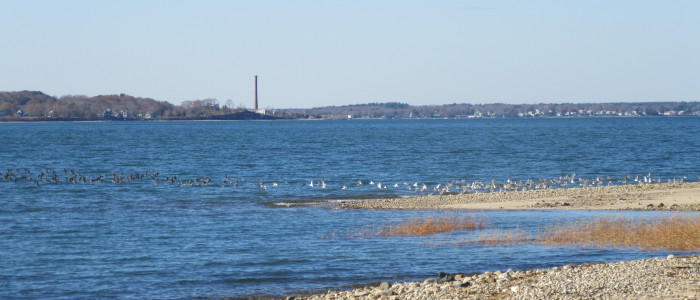 We enjoyed a warm day for our birding trip on November 16 and had many great sightings. A highlight for many was seeing an immature peregrine falcon stoop on a flock of Dunlin. It was unsuccessful in securing a meal.
Long-tailed ducks entertained us with delicious views, as did Snow Buntings. Several other species of sea ducks gave us a show, and we even observed Gadwall in the calm water of the harbor side – it was a first for me to see them in salt water as they are much more often encountered in freshwater ponds and lakes.
If this all sounds fun to you, join us on our next birding trip on Monday, December 14. For more information and to sign up, click here.
Our trip list:
Brant
Canada Goose
Gadwall
American Black Duck
Common Eider
Surf Scoter
White-winged Scoter
Black Scoter
Long-tailed Duck
Bufflehead
Red-breasted Merganser
Red-throated Loon
Common Loon
Horned Grebe
Northern Gannet
Double-crested Cormorant
Great Blue Heron
Northern Harrier
Black-bellied Plover
Sanderling
Dunlin
Bonaparte's Gull
Ring-billed Gull
Herring Gull
Great Black-backed Gull
Rock Pigeon (Feral Pigeon)
Peregrine Falcon
American Crow
Snow Bunting
White-throated Sparrow
Song Sparrow
House Sparrow
Photo at top of Dunlin by Janice Spence.