Date/Time
Date - 01/16/2016
2:00 pm - 3:30 pm
Location
Brewster Chapel, Plymouth MA
Coastal Waters and Habitat Conservation in Plymouth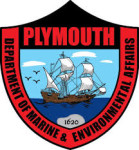 David Gould is the director of Plymouth's Department of Marine and Environmental Affairs (DMEA) whose work ranges from watershed management, lakes and ponds monitoring, aquatic restoration projects, aquaculture, land protection, and land management. Under his direction, the Department has made great strides in conservation, becoming known for ambitious and successful river restoration projects; the protection of open space; a model beach management plan; and stormwater pollution remediation projects.
David will describe his perspective on land and water conservation and describe several of his current projects, such as the restoration of Town Brook, which required the removal of five dams to allow herring passage to historical spawning grounds, the improvement of water quality in Plymouth Harbor permitting the first safe (and legal) harvesting of shellfish in 30 years in the area, and the restoration of the headwaters of the Eel River, involving, among other things, the planting of 17,000 Atlantic White Cedar seedlings.
David will also speak about the use of new technologies that have been embraced or piloted by his forward-thinking department, such as acoustic monitoring for great white sharks, the use of a smartphone app (ParkWatch) to engage residents in conservation and protection of natural areas, and the deployment of trail cameras to document poaching and dumping.
David received his B.A. from Bridgewater State University and his Master's degree from Arizona State University. He has been the recipient of the NOAA Environmental Hero Award, Coastal America Spirit Award, Coastal America Partnership Award, Gulf of Maine Council Award and Environmental Business Council Award for Outstanding Collaboration.
David began his work in Plymouth as the Natural Resources Officer administering the endangered shorebird program at the Town's three-mile long barrier beach. He enjoys fishing, hiking and white-water rafting and lives in Carver, MA with his wife Amy and their two children, Ryan and Sarah.
Pre-register for the talk to receive an email reminder about it a few days before and a message if it is postponed due to snow.