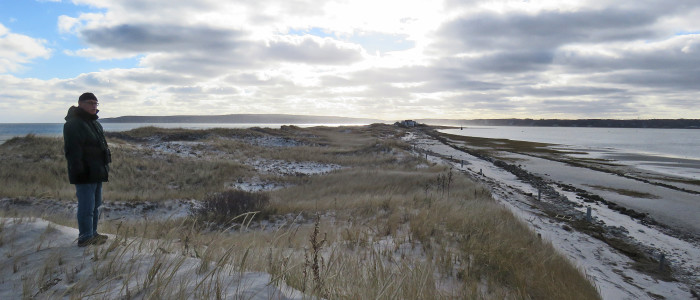 Each year, in lieu of hunting them for sport, thousands of Americans pursue birds with binoculars to identify and count them in support of the Christmas Bird Count or CBC, overseen by the National Audubon Society and now in its 116th year.
A CBC count circle is 15 miles in diameter; the Plymouth circle, which I participated in, stretches from the tip of Long Beach south to the Cape Cod Canal and west to Carver.
Data collected in the same area for many years reveals trends in bird movements and numbers, such as the shift north of many songbirds' ranges shifting and the decrease in populations of numerous species.
On December 16, I joined expert birders Wayne Petersen of Mass Audubon, Brad Winn of Manomet and Soheil Zendeh to bird in the northwest quadrant of the Plymouth count circle. We covered Long Beach, the waterfront, Jenney Pond, Billington Sea, Plimoth Plantation and the Eel River, Nook Road by the fish hatchery entrance, Little South Pond and areas in between.
Our first surprise popped up from behind a large rock on Plymouth Long Beach – a Snowy Owl! The first I have seen this winter, and a beauty. (Next chance to see this bird on a guided trip is Jan. 1, 2016. More details here.)
Another unusual bird was an adult Iceland Gull at the parking lot by the jetty. Although a rarity, it wasn't exactly a surprise as we had heard through the birders' grapevine that it was once again spending the winter behind the East Bay Grille.
Other surprises were due to negative data, that is, not seeing particular birds, or not many. For instance, we saw no Brant or Horned Grebes, which are generally gimmes in our section. And, the number of Mourning Doves, chickadees, wrens and Northern Cardinals was much lower than in previous years.
A surprising find in Massachusetts this year is the Ash-throated Flycatcher, which is a bird of the western U.S. Three have been spotted on the North Shore and one has taken up residence at Manomet and was counted for the CBC, but not by my group as counting outside our specified section would have been considered poaching.
At the end of the day, we gathered with the other birders to compile all of our sightings. The tally of species for the day was 106, and our section found 55 different species. The full list for our section is below.
Canada Goose  109
Mute Swan  21
Gadwall  17
American Black Duck  82
Mallard  68
Ring-necked Duck  5
Greater Scaup  2
Common Eider  120
Surf Scoter  55
White-winged Scoter  42
Black Scoter  8
Long-tailed Duck  30
Bufflehead  75
Common Goldeneye  3
Hooded Merganser  9
Red-breasted Merganser  150
Wild Turkey  2
Red-throated Loon  4
Common Loon  6
Northern Gannet  8
Double-crested Cormorant  1
Great Blue Heron  1
Red-tailed Hawk  1
Sanderling  10
Dunlin  130
Bonaparte's Gull  35
Ring-billed Gull  245
Herring Gull  311
Iceland Gull  1
Great Black-backed Gull  29
Rock Pigeon (Feral Pigeon)  115
Mourning Dove  2
Snowy Owl  1
Belted Kingfisher  1
Downy Woodpecker  12
Blue Jay  4
American Crow  11
Black-capped Chickadee  32
Tufted Titmouse  12
White-breasted Nuthatch  6
Winter Wren  2
Carolina Wren  2
Hermit Thrush  2
American Robin  1
Northern Mockingbird  1
European Starling  11
Snow Bunting  60
Dark-eyed Junco  1
White-throated Sparrow  2
Song Sparrow  21
Northern Cardinal  21     Many attracted by pishing
Red-winged Blackbird  11
House Finch  2
American Goldfinch  2
House Sparrow  26