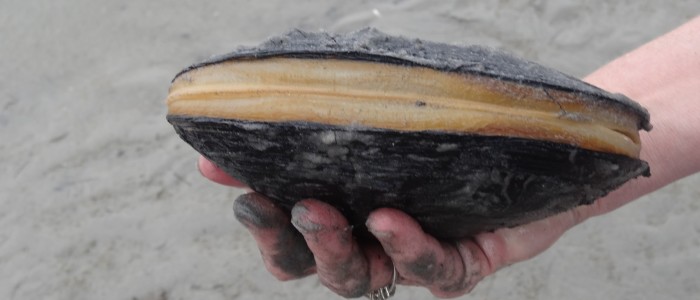 Goldenrod Foundation led two Learn to Clam workshops this summer to teach Plymouth residents how to find, dig, shuck and cook the giant Surf Clam. One of our participants, Love Albrecht Howard, perfected a clam chowder recipe and was kind enough to share it with the world. Enjoy!
Love's New England Clam Chowder
YIELD: Serves 4 to 6 bowls
ACTIVE TIME: 60 minutes             TOTAL TIME: 2 to 3 hours
EQUIPMENT: Dutch oven or other heavy-bottomed cookpot.
NOTE: For best results, use live clams, such as surf clams, littlenecks, cherrystones, or quahogs. You will need 3 cups of meat.
INGREDIENTS
1/2 pound salt pork or bacon, cut into 1/2-inch pieces
2 tablespoons butter
1 medium yellow onion, finely chopped (about 1 cup)
1 medium shallot, finely chopped
3-4 stalks celery, finely chopped (about 1 cup)
1 cup clam juice (this is the nectar or liquor you get from the clam when you shuck it. You can also buy it in cans)
3 cups of clam meat, cut in to ¼ to ½" pieces, save clam liquor, set all aside
1 quart whole milk
3 cups of russet potatoes, peeled, cut into ¼ inch cubes, and steamed until very tender
2 bay leaves
2 sprigs of fresh thyme
1 cup heavy cream
Kosher salt and freshly ground black pepper
1 bunch of green onions, tops only, finely cut in to rings
Sriracha or other hot sauce
Minced fresh parsley, for serving
Oyster crackers or crusty sour dough bread, for serving
DIRECTIONS
Combine bacon/salt pork and 1/4 cup water in a heavy-bottomed stock pot or Dutch oven. Cook over medium heat, stirring occasionally, until water has evaporated and pork has begun to brown and crisp in spots, about 8 minutes. DO NOT BURN.
At the same time, in a separate pot, steam the diced potatoes until very tender. When tender, set pot off the heat, we'll incorporate the potato later.
When fat is rendered out of pork, remove rendered bits from cooking pot and set aside.
Add butter, onion, shallot, celery, bay leaves and thyme. Continue to cook over medium heat, stirring occasionally, until onions are soft and translucent, but not browned, about 12 – 15 minutes longer.
Add bay leaves and thyme.
Add clam juice, milk, and cooked potato. (Cook the potato ahead of time, or you will be cooking it in the pot at least an hour on medium low heat . . . much faster to steam the potato separately and add it in.)
Add 5 hearty cranks from a pepper mill. The milk will break, but do NOT worry. We take care of this with blending.
Cook on very low simmer for 15 minutes.
Remove the bay leaves and thyme sprigs. Discard.
Remove pot of chowder from heat, and strain contents of pot through strainer and in to a large bowl. SAVE EVERYTHING! Put contents of strainer back in to cooking pot (NOT on heat).
Take the strained liquid and put it in a blender, along with 2+ cups of the potato/onion/celery mixture from the cooking pot. Blend well. When liquefied it should be thick, almost like a milk shake. If still too thin, add more of the potato mixture and liquefy, again.
Pour blended liquid back in to cooking pot, along with the chopped clams and clam liquor.
Add green onions, and heavy cream. Stir well, and bring to a simmer on LOW HEAT . . . simmer for 10 minutes, stirring occasionally.
Remove from heat, add a healthy splash of Sriracha or your favorite hot sauce, salt to taste, and stir.
Serve chowder with crumbled bacon bits, freshly minced parsley and fresh black pepper . . . have oyster crackers or warmed sour dough bread with butter on the side. DELISH!
About the cook
Love Albrecht Howard is a landscape and home renovation contractor who dabbles in cooking…and, in hunting for surf clams!