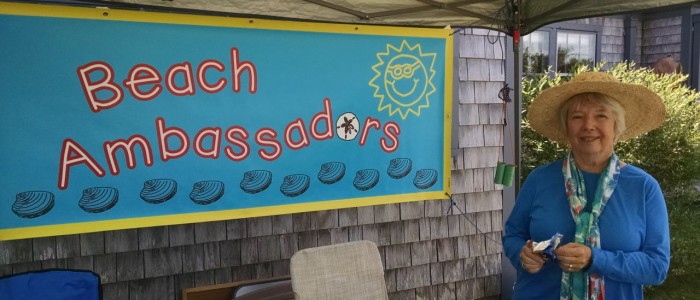 Our dedicated team of volunteers – the Beach Ambassadors – recently celebrated the end of the summer season. And, there was much to celebrate! Sixteen volunteers contributed 875 hours this summer, reaching over 2,000 people with coastal education, nature discovery and outdoor fun. We ran an osprey viewing station at Nelson Park on 19 days, introducing people to the joys of wildlife observation and the family life of these wild birds. That alone attracted 1,321 participants!
The osprey pair successfully raised four chicks and Beach Ambassadors and visitors alike delighted in watching their first flights.
At the end of August, as the osprey prepared to depart for their wintering grounds in South America or the Caribbean, we said buen viaje at a free public event, which featured an osprey migration obstacle course, Latin American treats and facts about bird migration.
Along with the osprey viewing, Beach Ambassadors led children's nature discovery activities such as Beach-in-a-Box, Nature's Treasure Chest, Find-a-Nest and Wrack Attack, which is a timed race to gather "invertebrates" (beans) from the "seaweed" washed up onshore (yarn). Different combinations of activities were presented at festivals and other events such as PineFest, Cape Cod Wildlife Festival, Plimoth Plantation Farmers' Market and Duxbury Beach Saturdays with Mass Audubon.
This slideshow requires JavaScript.
Special events were held,too, including Night Sky Viewing featuring local astronomer Jim Kundzicz, and Talkin' Turkey, a nature walk and presentation by Dr. Jim Dickson.
And that's not all! While education is a big part of what the Beach Ambassadors do, they also participate in citizen science and stewardship activities such as counting herring for Plymouth's Department of Marine and Environmental Affairs, testing water quality as part of the Cape Cod Bay Monitoring Program, and monitoring tern nests for the Buzzards Bay Tern Restoration Project.
Stewardship projects include picking up trash during Plymouth Hometown Cleanup, helping to erect symbolic fencing to protect beach-nesting birds on Long Beach, and planting native plants in restoration projects.
One Ambassador even wrote a book about the Nelson Park osprey using her own exceptional photographs to illustrate it.
All of this effort was recognized at a recent volunteer appreciation party. Numerous people received their 50 hour pins, several earned 100 hour pins and a two-year volunteer was awarded a 200-hour pin. We also honored our three Youth Beach Ambassadors – two high school students our youngest Beach Ambassador, Mia, a third-grade student.
And, there is more to come! Beach Ambassadors are now designing Beach Discovery Backpacks for families to sign out to do their own exploring, planning Goldenrod's annual speaker series: Making Waves in Coastal Conservation and creating new nature discovery games for Summer in Winter, to be held in February 2016.
Photos by Carolyn Collins, Mara Delgado, Lisa Meeks, Debbie Plume, Jan Spence and Dorie Stolley